Harry Potter And The Prisoner Of Azkaban
Harry Potter, along with his friends, Ron and Hermione, is about to start his third year at Hogwarts School of Witchcraft and Wizardry. Harry can't wait to get back to school after the summer holidays. (Who wouldn't if they lived with the Dursleys?)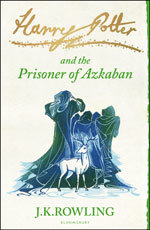 Overview
Harry Potter, along with his friends, Ron and Hermione, is about to start his third year at Hogwarts School of Witchcraft and Wizardry. Harry can't wait to get back to school after the summer holidays. (Who wouldn't if they lived with the Dursleys?) But when Harry gets to Hogwarts, the atmosphere is tense. There's an escaped mass murderer on the loose, and the sinister prison guards of Azkaban have been called in to guard the school.
Review:
'The Harry Potter books are that rare thing, a series pf stories adored by parents and children alike.' The Daily Telegraph
About the Author :J.K. Rowling was a struggling single mother when she wrote the beginning of Harry Potter and the Sorcerer's Stone, on scraps of paper at a local cafe. But her efforts soon paid off, as she received an unprecedented award from the Scottish Arts Council enabling her to finish the book. Since then, the debut novel has become an international phenomenon, garnering rave reviews and major awards, including the British Book Awards Chidren's Book of the Year and the Smarties Prize. Ms. Rowling lives in Edinburgh with her daughter.
Features
| | |
| --- | --- |
| | 0.5 kg |
| | 9780747546290 |
| | J.K.Rowling |
| | Bloomsbury |
| | English |
| | 317 |
| | Paper Back |
Customer reviews and ratings