The Deeper Secret (in Hindi)
This is the Hindi Translation of "The Deeper Secret" by Annemarie Postma.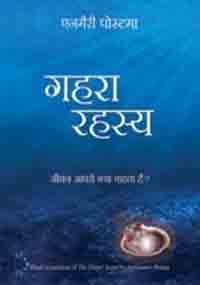 Overview
Millions of people have read The Secret and have its Law of Attractio
into practice, hopping to draw the things they desire into their lives.
But what happens if the life of your dreams doesn't materialise? What if
you need more help to fulfil your destiny?

In The Deeper Secret,
Annemaric Postma provides a fresh and empowering new perspective. She
explains that the original blckbuster book, The Secret, is an important
first step on a path that leads much further – towards the realisation
of our deepest dreams. We learn to discern why we want what we want, to
know what it means when our desires meet resistance, to decide actively
to seek our destiny, to overselves – rather than blaming outside forces
for the things we feel we lack. This is a book that will turn our most
cherished dream into possibilities we can recognise, seize and fulfil.

About The Author

Annemarie Postma
was born in the Netherlands in 1969. Partially paralysed as a result of
an untreated tick bite in childhood, she studies law, but became the
first professional model in Europe with a disability, appearing in
Playboy in 1995. In demand on TV talk shows at home and internationally,
she has since become a well-known campaigner and writer with a special
interest in self-esteem and self-respect. Since 2005, Annemarie has been
Goodwill Ambassador of the Netherlands Foundations for Handicapped
Children.

Features
| | |
| --- | --- |
| | World Wide |
| | 0.5 kg |
| | Dr. Sudhir Dixit |
| | 9788188569280 |
| | Annemaric Postma |
| | Manjul Publications |
| | Hindi |
| | 213 |
| | Paper Back |
Customer reviews and ratings