Inside The Pakistan Army
A Woman's Experience on the Frontline of the War on Terror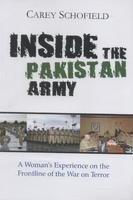 Overview
Whose side is Pakistan's military really on? Leaked intelligence records suggest the suspicion of collusion with the Taliban. Controversy surrounds the awarding of an extension to the tenure of Pakistan's army chief, General Kayani—target of accusations that he has links with factions responsible for anti-coalition violence in Afghanistan.
Pakistan's army is at the forefront of the war on terror, policing the border with Afghanistan and the lawless tribal agencies where Osama bin Laden is said to be hiding, and sporadically mounting offensives to crush the insurgents of the Taliban. In Pakistan recently, thousands have died in suicide attacks as insurgents have brought their war against the pro-Western government to the country's cities. Its success is seen as critical to the West's hopes of halting the spread of extremism outside the "AfPak" theater of operations. If the Pakistan army fails to stamp out the insurgency it could become unstoppable, with the drastic spread of global terrorism.
Carey Schofield is uniquely placed to comment on the contradictions at the heart of this institution. She spent five years with the Pakistan army, accompanying them on maneuvers and getting to know key figures from junior soldiers to Kayani himself. For five years, she travelled everywhere with them. They even had a uniform made for her. Inside the Pakistan Army is the truth about the army's vital role as an ally in the war.
Carey Schofield is a journalist and author of Inside the Soviet Army. She is a visiting fellow at Oxford University.
Features
| | |
| --- | --- |
| | 1 kg |
| | Army |
| | 9788182745640 |
| | Pentagon Security International |
| | English |
| | 232 |
| | Hardbound |
Customer reviews and ratings